5G International PhD School
ARTE CULTURA & SOCIETA'
ARTE CULTURA & SOCIETA'
ARTE CULTURA & SOCIETA'
ARTE CULTURA & SOCIETA'
ARTE CULTURA & SOCIETA'
ARTE CULTURA & SOCIETA'
ARTE CULTURA & SOCIETA'
ARTE CULTURA & SOCIETA'
ARTE CULTURA & SOCIETA'
ARTE CULTURA & SOCIETA'
ARTE CULTURA & SOCIETA'
---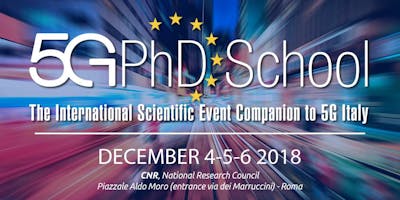 Da Martedì 04 Dicembre alle 08:30 a Giovedì 06 Dicembre alle 18:30
5G International PhD School
Da Martedì 04 Dicembre alle 08:30 a Giovedì 06 Dicembre alle 18:30
---
Supercom
---
5G International PhD School is the international doctorate school that CNIT has conceived as a prestigious event, with a high scientific connotation, aggregated at the 5G Italia conference.
5G International PhD School aspires to be an event in which all of us, researchers potentially interested in 5G technology, can jointly structure our training: to be able to grasp the innumerable research opportunities that the 5G, and its desired applications, can offer us.

TOPICS
During 5G International PhD School you will participate exclusively in 3 days of tutorial lessons offered by professors of international character on the research topics at the 5G hinge: 

Architecture, 
Applications to automation, 
Applications to Big Data, 
Applications to bioengineering, 
Field Trials, 
Fund Raising, 
MAC Layer, 
Physical Layer, 
Privacy and GDPR issues, 
Quality expectations, 
Simulations, 
Sustainability. 


LECTURERS
Colleagues protagonists of teaching and research on 5G and its applications at:

Aalborg University
CNRS
Keysight Technologies
King's College London
Oulu University
Queen Mary University of London
Rennes University

accepted the invitation to teach at the School.
But this list is evolving, other teachers have been invited and we are agreeing on their intervention. And others will still be as the number of school enrollments increases.

CREDITS
Enrolling to 5G International PhD School you will be, at any time and no costs, allowed participating to the companion 5G Italy conference taking place in parallel.
Participation in 5G International PhD School will be certified with earned ECTS credits.
Piazzale Aldo Moro, 7

7 Piazzale Aldo Moro 00185 Roma (RM)

---

Latitudine 41.9005
Longitudine 12.51237

---
Rimani sempre aggiornato sugli eventi di
!

E' Gratis e bastano pochi secondi.