I Virtuosi dell'opera di Roma - La Traviata at Salone Margherita
---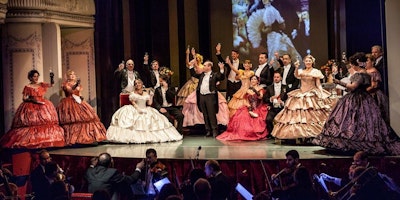 Martedì 14 Novembre dalle 20:30 alle 23:00
I Virtuosi dell'opera di Roma - La Traviata at Salone Margherita
Martedì 14 Novembre dalle 20:30 alle 23:00
---
I Virtuosi dell'opera di Roma
---
Direction Regia PIER FRANCESCO PINGITORE
The opera, set in Paris in mid 1800'tells the impossible love between Violetta, a wellknown courtesan, and Alfredo, a young good-looking noble man. Orchestra, Choir and Ballet I Virtuosi dell'opera di Roma. 
L'opera racconta l'amore impossibile e destinato a finire in tragedia, tra Violetta, una famosa mondana, e Alfredo, giovane di buona famiglia,nella Parigi di metà Ottocento. Orchestra, coro e corpo di ballo de I Virtuosi dell'opera di Roma.

Violetta ValeryCarmela MaffongelliSoprano
Flora Bervoix-AnninaMarina Tiberi Mezzosoprano
Alfredo GermontAdriano Gentili Tenor
Giorgio Germont Giancarlo Pera Baritone
GastoneGiuseppe RobertiTenor
Barone DupholAndrea CancaniBaritone
Marchese d'Orbigny Stefano Viti Basso
Dottor Grenvil Silvio Riccardi Basso
Servo di Violetta Giuseppe MeliTenor
Domestico di FloraEnzo FerrariBasso
Commissionario Lorenzo Scaccia Basso




Il Teatro Salone Margherita nasce nel 1890 quale 'café chantant', luogo riservato in cui consumare una cena assistendo ad uno spettacolo di varietà. Completamente rinnovato, riapre a questa tradizione proponendo una cena gourmet nelle sue sale eleganti liberty al piano superiore, con posto riservato nella balconata centrale per vedere lo spettacolo, e nei suoi prestigiosi ed esclusivi palchi privati con vista sul palcoscenico.
Per chi acquista i biglietti "Palco con cena" e "Galleria & Cena" al Salone Margherita si prega di essere in teatro entro le 19.30 La cena nel palco è possibile da un minimo di 2 ad un massimo di 4 persone.
 The Salone Margherita Theatre opened in 1890 as a café chantant, an intimate venue where people ate while watching variety shows and Opera performances. The theatre Salone Margherita has been completely refurbished and is once again offering the theatre's original idea of a cafè chantant. A fine dining experience for each performance is offered in the elegant Liberty Halls on the top floor, with reserved seat in the central balcony to see the show, and in its prestigious and exclusive private boxes overlooking the stage. A gourmet journey where you will enjoy the best Italian tradition
Who buying "Box with dinner" and "Balcony & Dinner" tickets at the Salone Margherita Theatre please come to the show at 7.30 pm at least. The dinner in the box is available from 2 to 4 people.
—
BOX AND DINNER
One Table for 2 (Concert & Dinner for 2 persons)
One Table for 3 (Concert & Dinner for 3 persons)
One Table for 4 (Concert & Dinner for 4 persons)
Dinner starts one hour before the show

BALCONY AND DINNER
Antipasto and First Course at Liberty Room
Opera First Act at the Balcony
Main Course at Liberty Room
Opera Second Act at the Balcony
Dessert at Liberty Room
Opera Final Act at the Balcony
Dinner starts one hour before the show, price per person, minimum 1 person

Reduction: Under 18, Students (MAX 27 years old), Groups (MIN 15 pax), Military, Roma Pass. Please,show the reduction document at the entrance.
Riduzioni: Under 18, Studenti (MAX 27 anni), Gruppi (min 15 pax), Militari, Roma Pass. Attenzione! il titolo della riduzione dovrà essere esibito all'ingresso.
Teatro Salone Margherita

Via dei Due Macelli, 75, 00187 Roma (RM)

---

Latitudine 41.90425
Longitudine 12.484

---
Rimani sempre aggiornato sugli eventi di
!

E' Gratis e bastano pochi secondi.